M. C.(1928-1988):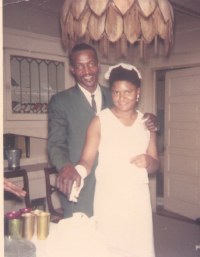 Love Never Dies...
M. C. Matthews was born January 6, 1928 to the parentage of Amos Matthews and Lula Mae Haley Matthews. M. C.'s childhood nickname was "Peter Rabbit". He married Delores Longino(12/23/37) on Halloween October 31, 1965 and happily gave candy and goodies to the neighborhood children who came for "trick or treat" that evening clothed in his wedding suit. M. C. and "Dee" were faithful members of the Los Angeles Muhamad Temple #2 of the Islamic faith. They later moved to Dee's home town, Hazlehurst, Mississippi.
M. C. passed away from us on January 23, 1988 after a long battle with cancer, within months of his older brother, Amos Jr.
M. C. loved children, and made it a vocation to care for the misfortunate. We love and cherish his memory.
Tribute to my Husband
A million times I will miss you.
A million time I will cry.
If love alone would have saved you
You never would have died.
In life I loved you dearly.
In death I love you still.
You built a place in my heart
that no other one can fill.
The golden gates stood open.
God saw you needed rest.
God's garden must be beautiful
for he always picks the best.
Mrs. Delores Longino Matthews